I'm one of those moms that just kind of wing things.  I wish I was more artistic, more crafty and had a great imagination, but that's not me!  When it comes to getting my kiddos ready for their Halloween costumes I just throw things together and do the best I can.  
I love when I can find ideas that even the novice like myself can do.  Here I've found some super simple Halloween Hairstyles you might want to try.  
This post contains affiliate links. I only bring things I personally would use, do use, or feel my readers would enjoy- Disclosure Policy
Take a look at some of these styles, if you don't see any here you like you may find some more simple Halloween Hairstyles here.
Coming up with a great Halloween costume can be as easy as the perfect hairstyle, a little bit of makeup, and a whole lot of attitude. Here are some more easy, last-minute Simple Halloween hairstyles courtesy of Madison Reed.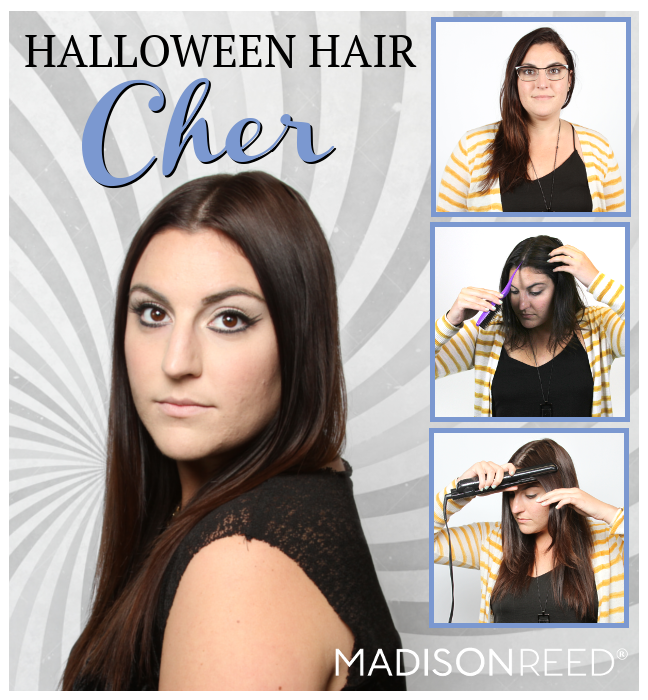 1. Start by finding the perfect middle part in your hair
2. Flat iron your hair
3. Spray hair to smooth any fly-away, add some eyeliner and rock this Cher circa 1960s look
1. Pull your hair back into a french braid that moves diagonally across the back of your head. We suggest getting a friend to help
2. Leave out several tendrils and curl them loosely
3. Work on your aloof yet fierce warrior look
1. Divide your hair into two sections
2. Use a doubled strip of florists wire that will run from the tip of one braid, over your head like a headband, all the way to the tip of the other braid
3. Braid the first section of your hair including the wire as you work
4. Run the wire over your head and braid the wire into the second braid
5. Bend as needed!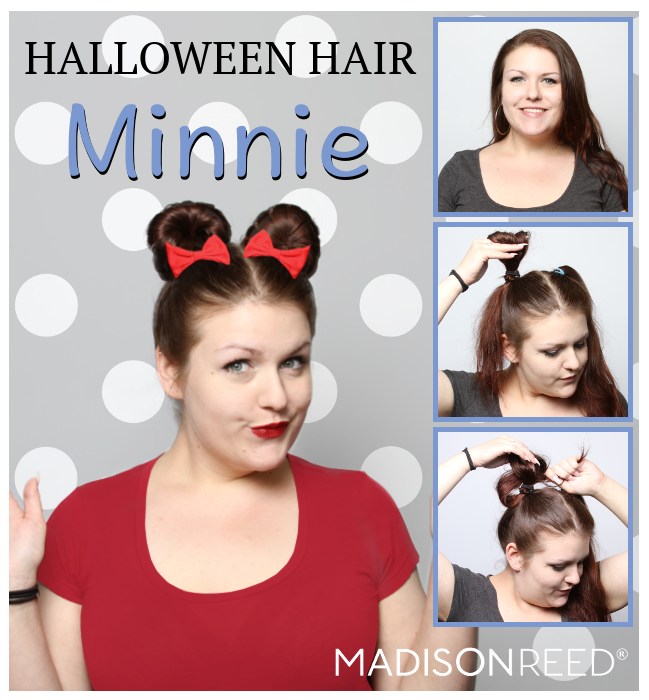 1. Start by finding the perfect middle part in your hair and dividing your hair into two sections
2. Pull your hair up into two high ponytails. Back tease ponytails for fullness
3. On each side, pull the hair through the elastic one last time, creating a loop. Then feed the bottom of the ponytail through the loop
4. Wrap the remaining lengths of hair around the Minnie Ear buns and pin into place
1. Starting at the front on either side of your head, separate two small sections and braid them. Join the two braids at the back
2. Curl the rest of your hair in loose curls
3. Back tease hair to create volume if necessary
Start by pulling your hair back and securing into a low ponytail with a hair tie

Twist the pony tail until it starts to curl itself into a bun. Secure with another hair tie and bobby pins as needed

Smooth and spray hair to get that sleek ballerina look
Start by creating a slanted part at the front of your hair.

Leave the front side sections of your hair down. Gather, twist, and pin all of the hair in the back into a messy base bun

Smooth the side sections over the base bun and pin into place

Add a little bling to the bouffant bun and voila!
Slick your hair back into a tight french braid that starts as close to the top of your head as you can manage.

Pull out two strategically placed tendrils from the front of your hair and spray or gel them for effect.
Thank you so much to the team at Madison Reed for providing all of the images and the perfect step-by-step instructions for these hairstyles.
What are you waiting for? Now is the perfect time to try Madison Reed's healthier for you color! Happy October! Take $10 off your first purchase of Madison Reed hair color – just use the offer code OCTOBERLOVE at checkout.
Don't forget to swing by my Giveaway Page for the latest going on!